The R.C.V. production program of direct current winded field motors includes models attaining a yield power of 11.5 kW at 3000RPM in the different construction types (B3 – B5 – B3/B5 – V1 etc.), featuring protection degrees which vary from IP23 up to IP65.
The excellent performance of these motors must be attributed to the quality and the accuracy in the construction. They can be used availing of many advantages when a variation in the rotating speed set and controlled over a steady torque even at low running rate is required.
The motors part of the "heavy line" are constructed according to the most traditional procedure contemplated for any electric dc winded field motors, featuring a steel housing and aluminium supports and they are all fitted with commutating poles.
The armature voltages may vary from 24v to 440v. These motors can be fed with rectified current which can be obtained either with static feeders or by means of more traditional systems like dynamo or batteries. The excitation power, if restricted within limited values, does not compromise the rapidity in the reply which is also obtained according to the reduced proportion of the motor with low inertia.
Any version can be fitted with parking electro-magnetic brakes and/or speedometer dynamos.
In addition, the version IP23 provides for the assembly of an add-on fan (SA) or, in case the overall dimensions in height must not be modified, of a coaxial fan (SC).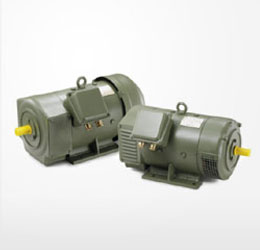 D.C. MOTORS/HEAVY LINE
TECHNICAL DATA SHEET
a RobassomeroLa R.C.V. ha sede nella zona industriale di Robassomero, comune della seconda cintura di Torino.
Arrivando dalle autostrade di Aosta (A5) e di Milano (A4) occorre imboccare la tangenziale di Torino in direzione sud, arrivando dal Frejus (A32), da Piacenza (A21) o da Savona (A6) occorre dirigersi verso nord.
Uscire a "Venaria – stadio" e svoltare al semaforo a sinistra, direzione Lanzo.
Attraversare l'abitato di Venaria e percorrere la S.P. N° 1 per circa 8 km, si costeggia il muro perimetrale del Parco Regionale della Mandria, fino al semaforo della zona industriale di Robassomero.
Svoltare a destra, quindi alla prima via nuovamente a destra, questa è v. Cavour.